On Wednesday, at Google's I/O developer conference, Google announced that it would bring back Google wallet- a new Android and Wear OS software that will allow users to store items like credit cards, loyalty cards, digital IDs, subway passes, concert tickets, vaccination cards, and more.
Android users may use Google Wallet to connect their credit cards and tap their handset at stores to pay for things. Google Wallet can also hold student IDs, immunization cards, concert tickets, airplane tickets, etc. (Google also added that the user's Walt Disney World tickets might be stored in Google Wallet.) The business also revealed that it collaborated with governments to integrate personal ID cards into Google Wallet. Users will share their digital identity by tapping or scanning a QR code.
Older versions of Google Wallet had similar (though more limited) ambitions. Still, Google claims that other firms are now more prepared to offer users digital cards and identities to populate the app. Certain hotels, for example, have shown a willingness to issue digital room keys, and some state governments in the United States are working on giving digital driver's licenses. Apple has also been bringing these use cases to its Wallet software, which appears quite similar to Google's offering. That's not to suggest Google is imitating Apple here, but it may have some catching up to do, given that Apple has been pushing this type of experience for years with Apple Wallet App.
Google Wallet was first introduced over a decade ago. However, over time, Google essentially combined Google Wallet into what became known as Google Pay. On the other hand, Google Pay is now more a payment processor than a Wallet app for digital cards. Google intends to return the branding of these functionalities to Google Wallet.
Google Pay is now operational in over 40 countries. The Google Pay app will be replaced by Google Wallet for most customers worldwide. One of the exclusions is users in India. For these functionalities, they will continue to use Google Pay. Customers in the United States (and Singapore) will utilize Google Wallet and Google Pay for these capabilities.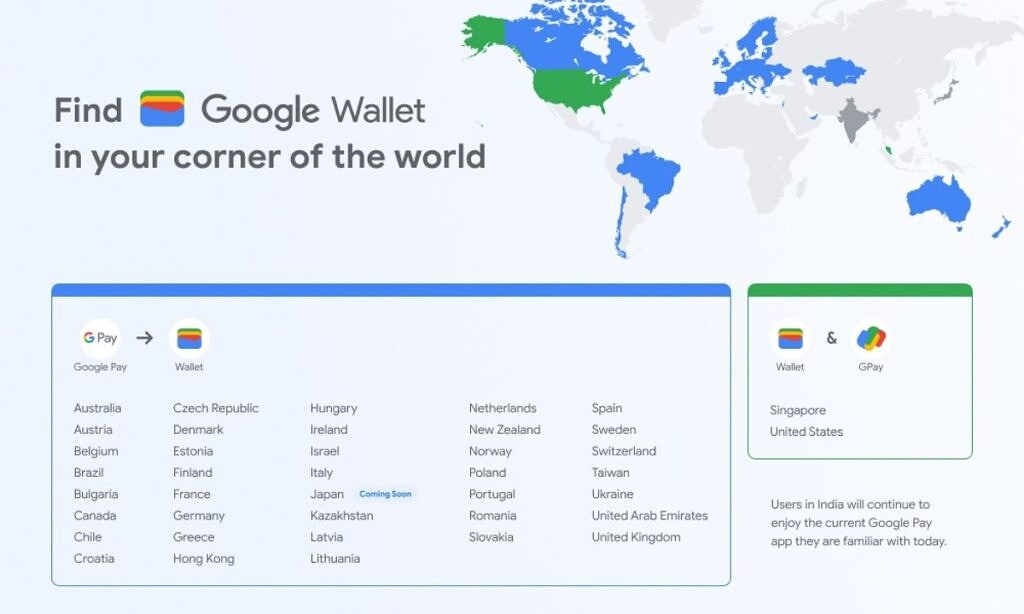 It's also convenient to handle all of your cards in one spot (like you do with a traditional wallet), and Google Pay has too much other going on to be excellent at that. Unlike Pay, Wallet will initially only be available on Android, although you will access some of the information you save in it on other devices. Some items, such as digital IDs, will be tied to a single device.