When the coronavirus pandemic first started, experts suggested taking a very cautious approach. They suggested to put a pause on the Ads and focusing on re-branding your store and re-writing your product descriptions.
However, over the last few weeks, we have noticed eCommerce and dropshipping orders skyrocketing. All kinds of sellers, big or small, have noticed a massive increase in sales. Even amidst all the shipping delays and uncertainty going around right now.
On one hand, there are speculations about sellers losing their business in some segments on the other hand those who are selling the right kinds of products are making fortunes amidst the pandemic.
If you are feeling a little stir-crazy with your eCommerce store, you want to jump back into selling, and curious to know the trending products to sell in 2021, then this article is for you.
As I mentioned earlier, eCommerce sales in some segments are skyrocketing. Drop shippers and inventory-based sellers across the world are making more money than the usual days.
Yes, you heard that right.
I work in the eCommerce B2B industry and have been in contact with entrepreneurs all this time in the pandemic. That means, unlike many other bloggers, I have seen the actual market from ground zero and have access to credible data that suggest certain products are doing crazy good at this time. Check these suggestions if you are wondering about what to sell online in 2021.
Here are 10 such trending products with categories that I have narrowed down based on the sales data over the past 3 months from different regions. If you want to bounce back on the track and make the most out of the current demands, I suggest you start selling these top trending products right away.
Let's jump into the list of trending products in 2021.
A. Trending COVID-19 Safety supplies
It's one such category that does not require any data-backed claim. Consumers are looking for COVID-19 safety supplies without any discrimination. These products have seen a massive surge right from the beginning of the lockdown in early March and they are still in demand.
Looking at the reports from health departments, which suggest that Coronavirus and its impacts are going to stay for a long time and we have to learn to live in the new normal situations, I can assure these trending products would sell upfront, irrespective of your business location.
1. Face Masks
With the surge in corona virus cases worldwide, the search term 'face mask' also spiked up in google. As it can be seen from the google trends, the search interest started to rise from mid of Jan 2021 and is still in trend even though there are some seasonal variations.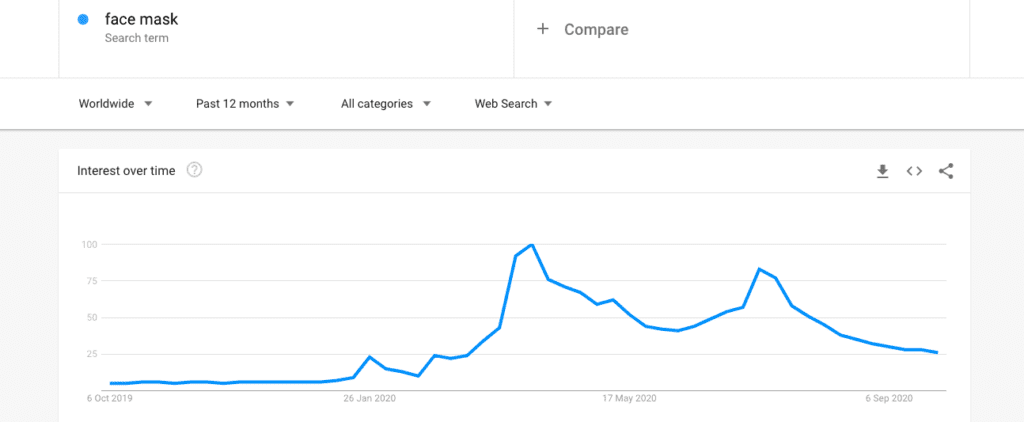 As face masks have become a very integral part of our lives during the pandemic, people are making it a form of expression and fashion. According to HealthLine, celebrities are trending #MaskingForAFriend challenge on social media encouraging wearing masks to protect people.
2. Alcohol-based Hand Sanitizers
Hand sanitizers are gaining popularity as the best means to avoid infectious agents and a good substitute for soap and water. They are instant and easy to use even when you are in office or traveling. You can always keep one in your personal bag for your use. Like face masks, sanitizers are used daily and even more frequently, people tend to buy them in bulk. Hand sanitizer market size is huge and it is expected to grow even bigger in the future.
3. Disinfection solutions and spray gun for cleaning
A review of the survival of human coronaviruses on surfaces found large variability, ranging from 2 hours to 9 days. Disinfecting places is necessary for the safety measures whether it be home, office or cars. Consumers are buying disinfection solutions along with spray guns for the disinfection process.
4. Custom Die Cut Stickers
Due to the COVID-19 outbreak, people have been going through a period of chaos. Fortunately, with the efforts of the government, hospitals, and people, life is gradually returning to normal. A new order is being established, new habits are being formed, and new ideas and slogans are being promoted. The best way to spread the word is through announcements and precautions related to COVID-19.
The COVID-19 die-cut stickers become a useful way to do it. . Governments, hospitals, shopping malls, etc. are all customizing COVID-19-related stickers online, such as mask stickers, QR code pass stickers, registered vaccine stickers, etc. Due to different epidemic prevention and control policies in different places, these online custom die cut stickers sold have also become one of the best-selling products
5. Laundry disinfection solutions
The global search trend of laundry disinfectant in google shows that there were high search interest during July and August. Even though the search interest is random, the trend is still in continuation.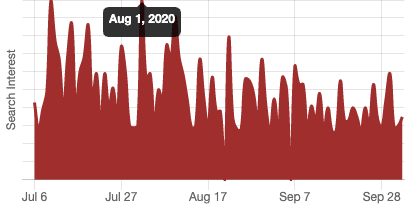 6. Air purifiers
Even though the air purifiers are not effective against coronavirus, consumers are looking for such items to improve indoor air quality. Due to lockdown and work from home scheme in many companies, people are living inside for most of their time. So they want much cleaner and fresher air to breathe inside their house.
Here is the google trends result of air purifiers. It shows the highest search interest during the mid september.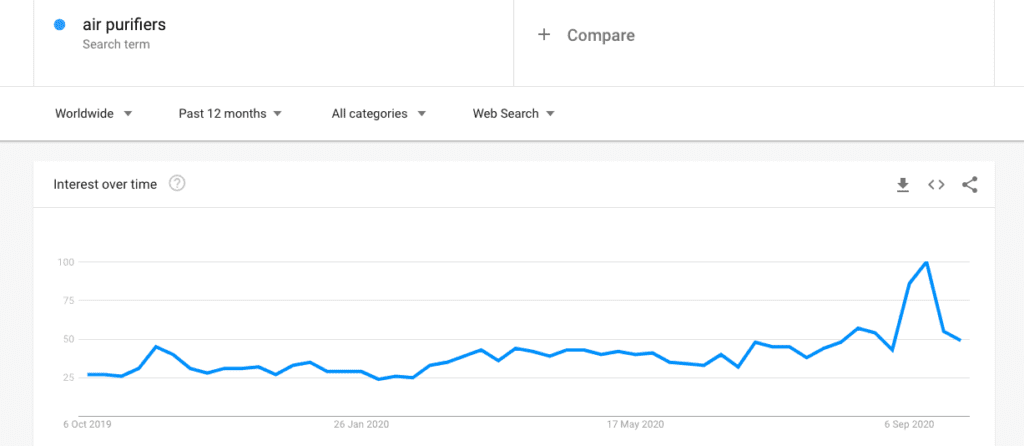 B. Trending Health and Wellness Products
Consumers are looking for products that would help them to stay fit and healthy during this tough time. These products are being sold in different forms. For example, eatables, drinks, pills, powders, etc. You could be making some good sales of these products.
However, be advised that you are selling products that are approved by health and food safety regulatory of your region. Looking at the growing demands, fake and counterfeits products have also hit the market. You have to be careful about them. Same goes to selling safety supplies as well.
6. Immunity boosters
Citrus, Garlic, Broccoli, Onion, Turmeric, Red Capsicum, Cucumber, Carrot, Coconut water, lemon, orange etc. are the trending natural immunity boosters. Research suggests that curcumin could have a potential role to treat COVID‐19. The search interest of curcumin can still be seen in the google trends.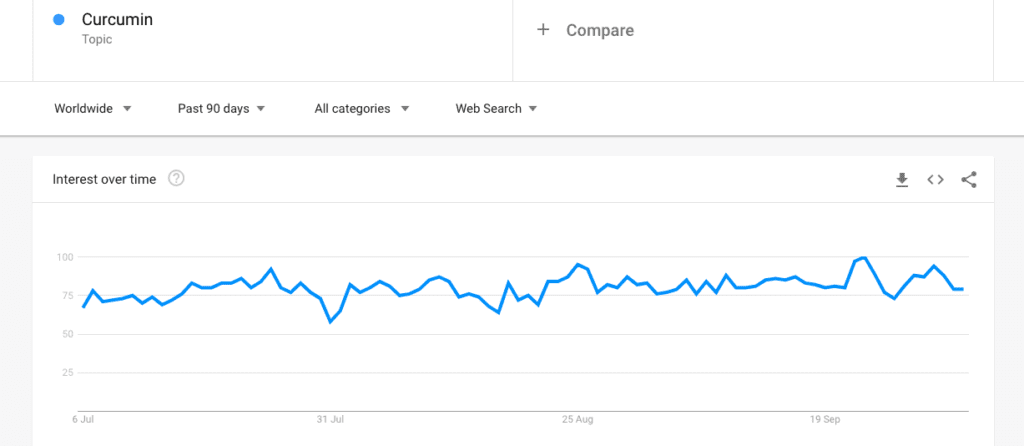 7. Health Drinks
Products related to health and fitness were trending even before the pandemic, but now consumer have become more health conscious like never before. Staying at home and following the healthy habits are what consumers are doing. It makes sense that such products are trending right now.
The search interest has been consistent regarding the health drinks as seen in google trends.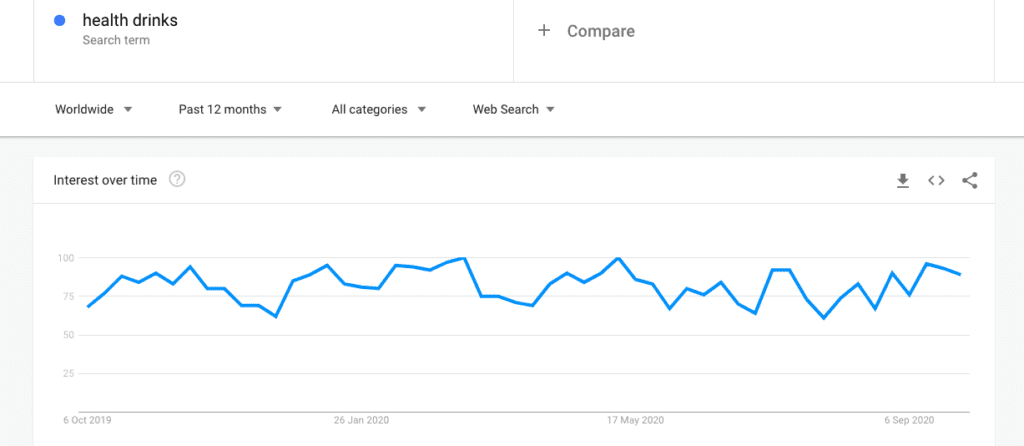 There are thousands of high star rating and reviews on such products on Amazon. Such products, being mixed with varieties of beneficial elements, large age range of consumer group and multiple ways for consuming, are one of the easy ways to fulfill the nutrition demand of the body.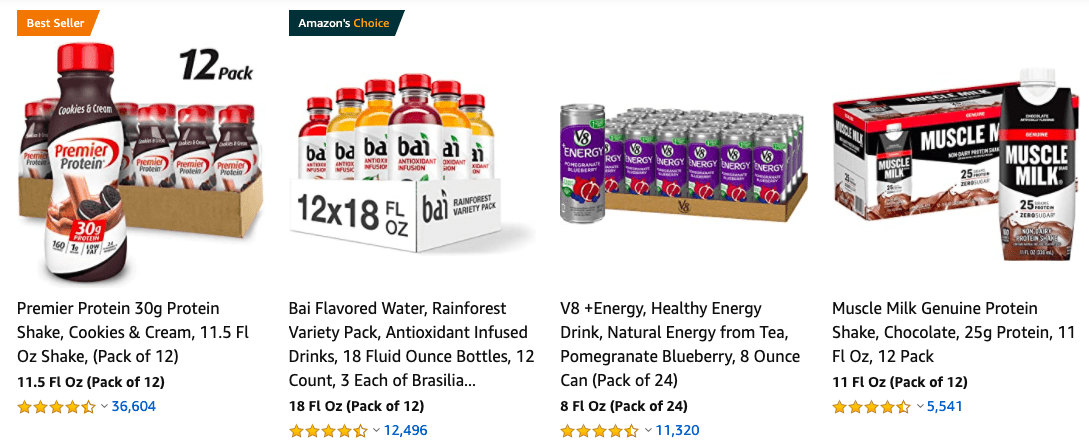 8. Nutrition supplements
Nutritional supplements are any dietary supplement used to improve the diet and often contain vitamins, minerals, herbs or amino acids. Such products are usually taken in capsule, pill, tablet or liquid form. As seen on google trends, nutrition supplements products are consistent in consumers' search interest.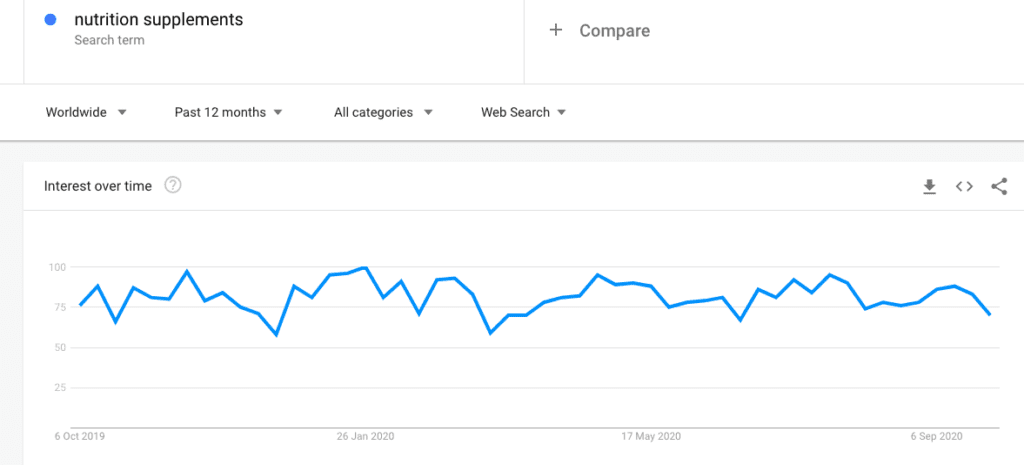 C. Grocery and Gourmet Food
In the US alone, there has been a clear online surge in the demands for groceries for both perishable and fresh supplies. As seen on Sellics, the following grocery supplies have seen a massive spike in the trend:
9. Meat & Seafood (+173%)
10. Canned, Jarred & Packaged Foods (+101%)
11. Produce (+40%)
12. Breakfast Foods (+36%)
13. Snack Foods (+36%)
14. Dairy, Cheese & Eggs (+36%)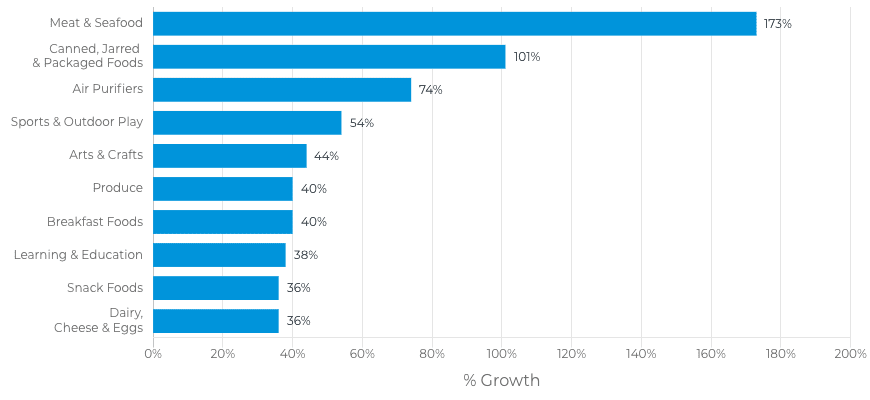 D. Trending Pet Supplies
Pets are enjoying a life of luxury for sure. Pet owners have continued to purchase trending pet products. This market has hardly seen a drop due to the pandemic situation. As local pet supply stores have stayed closed in the lockdown, the online shopping for the same has seen the surge.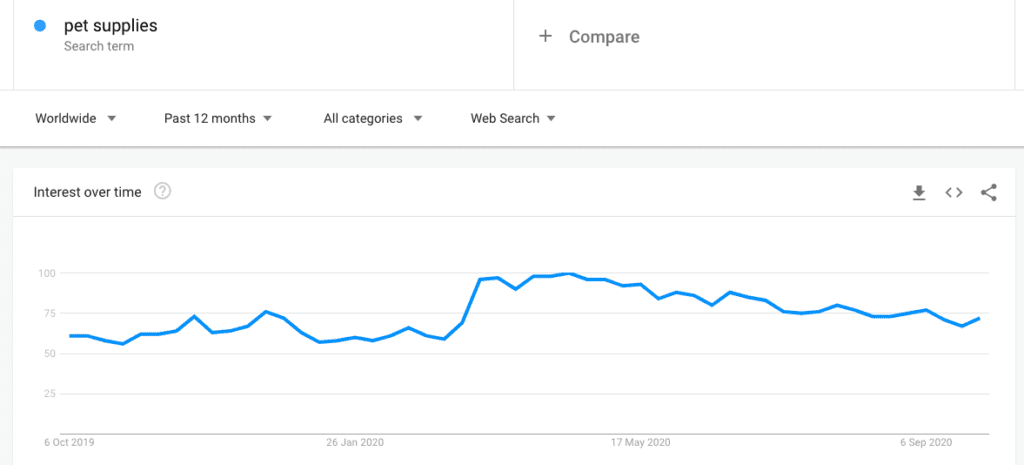 In fact, the global estimation of the pet care market to surpass the $250 Billion mark by 2025 is on the right track. As per current trends are suggesting, the demands are going to stay as it is even after the pandemic ends. Trending products for pet that are rocking in the online market are-
15. Slow feeder bowls
Slow feeder bowls are a great option for the pets that are known to eat their food too fast. Such bowl prevents most dogs from vomiting and helps in effective digestion with smaller portion of food being consumed at a time.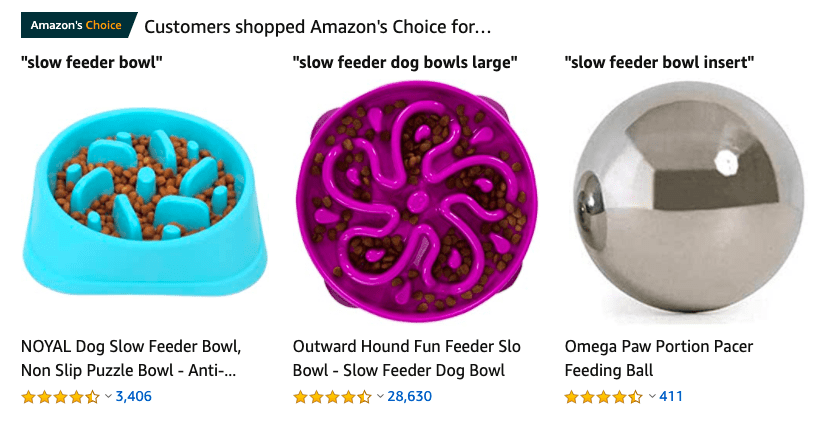 16. Pet grooming gloves
Pet grooming gloves are effective alternative to brushes for removing dirt and losing hair from pet coats. Such gloves are designed to comfortably fit the shape of your hand and fingers and provides a gentle massage and grooming.
17. Pet selfie tools
Pet photography is another timeless trend now fueled by the increasing use of social media. Since pet photography itself is another growing market, photography accessories are trending these days.
18. Electronic cat toys
If you own a cat, you probably know that cat loves playing with something that shines, moves and makes sound. In a national pet owners survey conducted by American Pet Products Association (APPA) in 2019-2020, there are 94.2 millions cats owned by 42.7 millions households in the United States. Each house in average spend $31 per year just on cat toys. It's a huge market out there.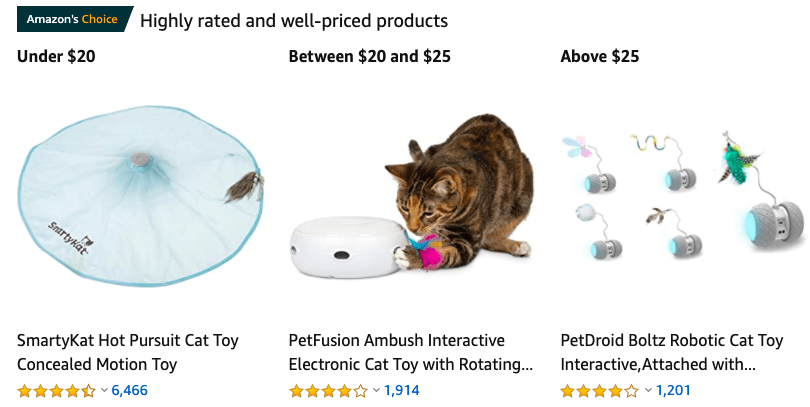 19. Pet beds
There are 67% percent of U.S. households and about 85 million families, owning a pet, according to the 2019-2020 National Pet Owners Survey conducted by the APPA. These numbers are growing each year and anything related to pet would be a good product to sell online. The google search interest also shows that the trend is consistent with some seasonal variation.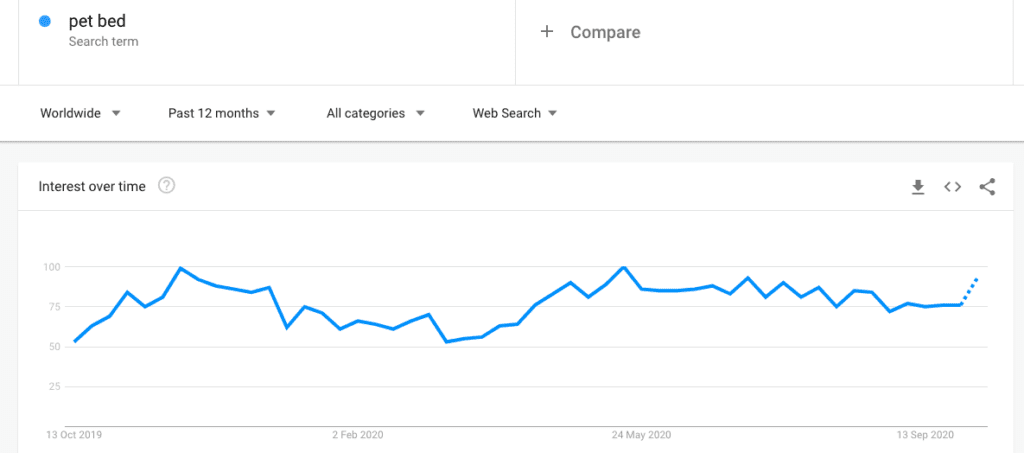 E. Entertainment and electronic appliances
If you deal in electronics or run a multivendor marketplace for electronic products, now is the right time to invest in certain products, which have been in demand way before 2021, besides continuing to be in trend in 2021 as well. As people are staying at their homes, they looking for gadgets and devices that provide some entertainment and utility at the same time. Be Apple's AirPods 2 or other affordable Bluetooth earphone and soundbars, portable electronic appliances are making it big in 2021. You can start selling the following products from this category:
20. Wireless/Bluetooth headphones
21. Wireless/Bluetooth earbuds
22. Portable wireless/Bluetooth speakers
23. Smart keychains
24. Smart bulbs
25. Mobile phone accessories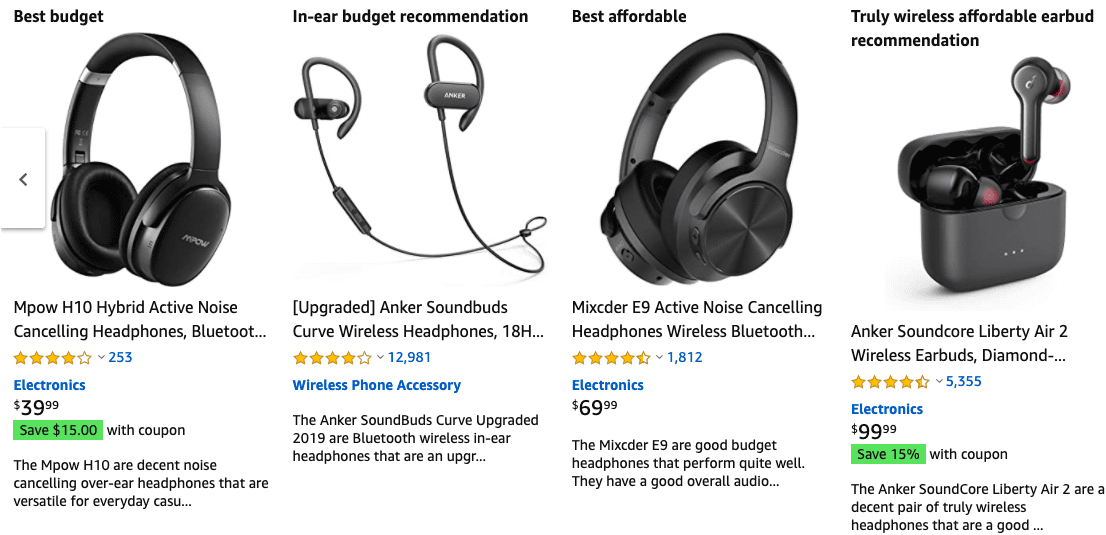 F. Toys and games
It's not a big surprise for sure. Being stuck at home, who would not want to spend some leisure time playing video games and other kinds of indoor games. To be precise, both the US and Europe are seeing a decent surge in the demands for video games, board games, and toys. In addition to traditional entertainment such as Netflix and other OTT content, segments such as family games, video games, have been keeping people busy in their homes.
26. Video games
27. Board games
28. Toys
Google Trends also shows the search interest for the term games is still trending.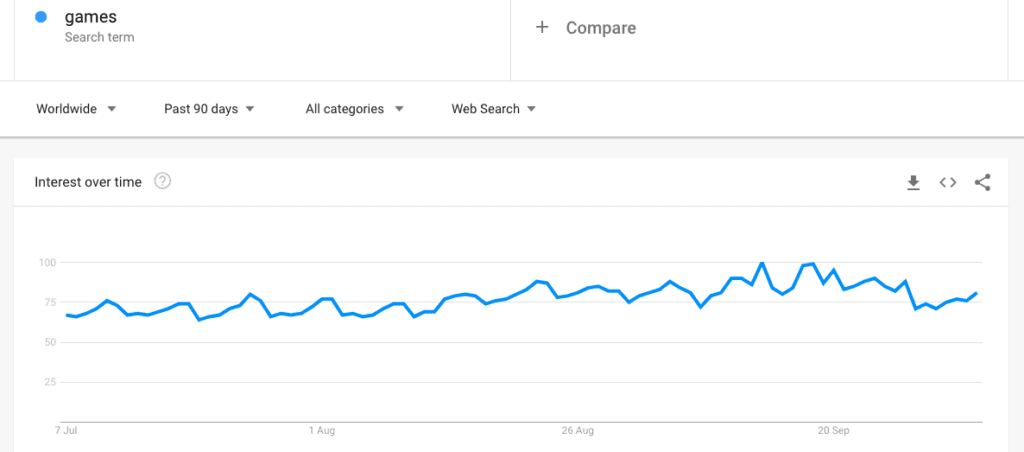 G. Work from home supplies
It's hardly a surprise that people are looking for products and supplies that facilitate ideal work from home setting. Ranging from big IT firms to startups, everyone has been preparing for the long break from the office space. In fact, many companies have provided special allowances to their employees to purchase work from home supplies. This particular list includes but not limited to-
29. Tables
30. Laptop stands
31. Chairs
32. Stationery supplies
33. Laptops and work stations
34. Wifi routers

H. Fitness supplies
Fitness freaks have been missing their gyms, but there is nothing that can stop them from their regular workout. Unfortunately, going to public gyms is not safe anymore, so people have been buying basic gym and exercise equipment for their home. The continuous need to stay at home has also encouraged others to practice exercises to stay fit. Inevitably, the demands for relevant supplies have surged including the products such as-
35. Health drinks
36. Home Gym
37. Yoga Mats
38. Dumbbells
39. Trade mills
40. Elliptical Trainer
41. Exercise Bike
42. Exercise Bench


I. At Home Hobby supplies
Even after working from home, there is still much time left for people to explore the things they have not been able to do in their regular hectic schedules. People have been exploring their hobbies and spending time doing activities like gardening, knitting, painting, drawing, dancing, and practicing yoga. Hence, a surge in the demands of the following supplies should not come as a surprise indeed.
43. Gardening supplies
Gardening is a hobby as well as a great means of physical fitness and mental well being. It is one way of getting close to the nature. It also teaches children how to grow.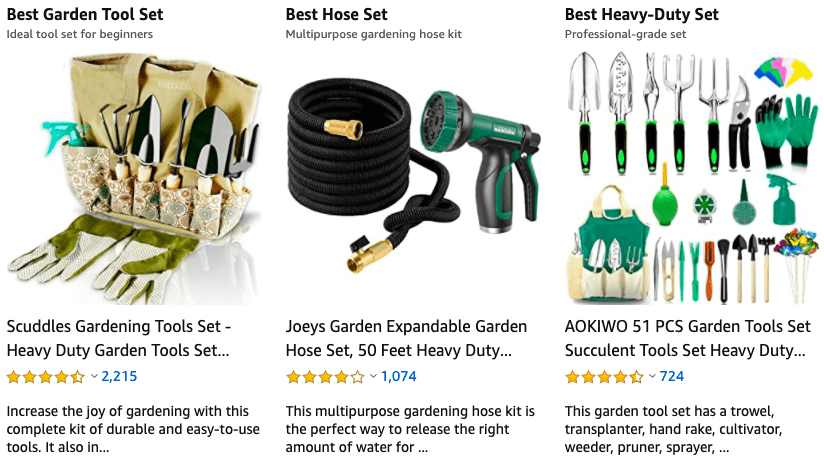 Other trending products to keep children creative and busy at the same time are:
44. Drawing kits
45. Painting kits
46. Puzzle games
47. Craft supplies
48. Cutting mat
49. Home décor items
A good interior design brightens up the mood of the people living in the house and gets rid of anxiety and stress. Google trends shows the increasing search interest of home décor over the time.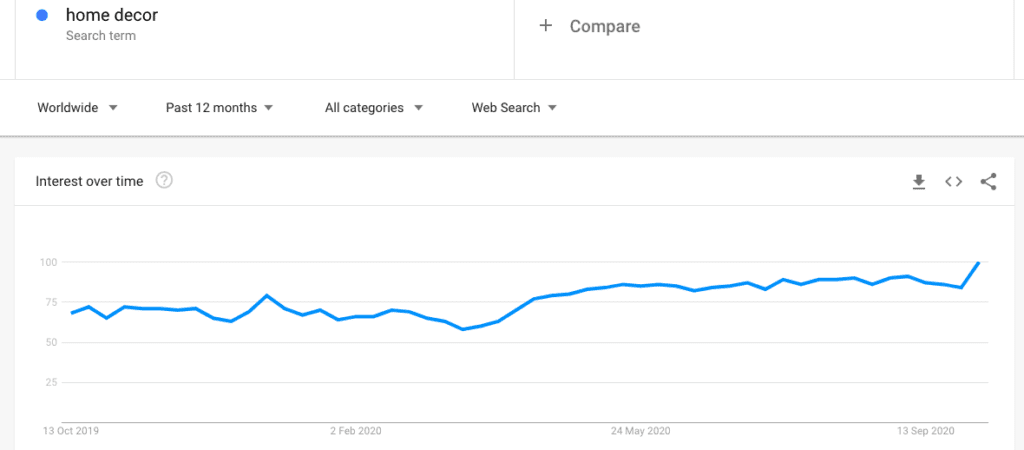 50. Books
Whether it be for learning purposes, increasing cognitive power, building vocabulary, alleviating depression or just to kill the time, reading books is a great way and alternative. Here are the best selling books with categories on amazon.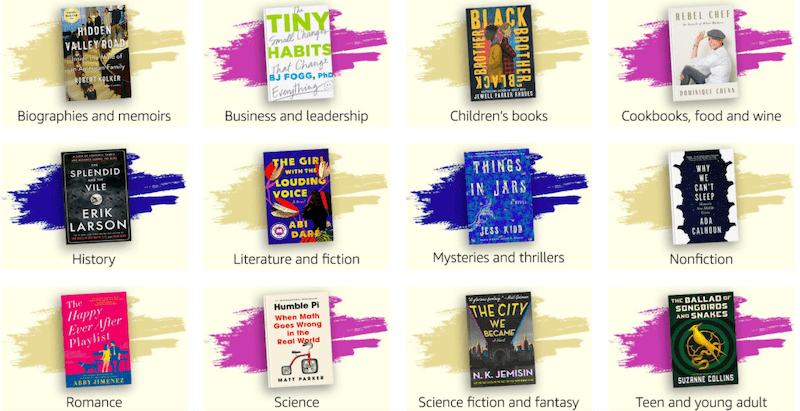 To conclude
I hope I was able to suggest some of the best trending products to sell in 2021. Be advised that there is nothing more important in eCommerce than staying relevant and connecting with the customers. You have to supplement these amazing top trending product ideas with your amazing marketing tactics to get the best results.
I would like to end this with a cliché, which is still the most relevant thing in eCommerce today, understand your customers' pain points and offer them with what they want the most, not what you want to sell the most. Stay relevant, blend your product ideas with appropriate marketing, and you can turn these trends into profits in no time.