Creating a 30-60-90-day plan for an account executive can be a daunting task. However, it is a crucial step to ensuring success in the role. A well-crafted 30-60-90 day plan helps an account executive align with their organization's goals, understand the customer base, and create a roadmap for growth. In this post, we will dive into what a 30-60-90 day plan for an account executive looks like and how to create one that sets you up for success.
Day 1-30: Laying the Foundation
During the first 30 days, an account executive should focus on laying the foundation for success. This includes getting to know the company's products, services, and customers. The following tasks can help you achieve this:
1. Get Familiar with the Company's Products and Services
Start by reviewing the company's products and services. This includes understanding the features and benefits of each product, as well as how they compare to competitors' offerings. By doing so, you'll be better equipped to position the products and services to potential customers.
2. Understand the Sales Process
Take the time to understand the company's sales process. This includes understanding how leads are generated, how they are nurtured, and how the sales team closes deals. By doing so, you'll be able to identify areas for improvement and streamline the process to make it more efficient.
3. Build Relationships with Key Stakeholders
Get to know the key stakeholders in the organization. This includes sales managers, marketing managers, product managers, and customer success managers. Building relationships with these individuals will help you better understand the company's goals and how you can contribute to them.
4. Study the Customer Base
Spend time studying the company's customer base. This includes understanding their pain points, needs, and goals. By doing so, you'll be able to tailor your sales pitch to meet their specific needs.
Day 30-60: Build Relationships and Identify Opportunities
During the second phase of the plan, which covers days 31 to 60, the focus shifts towards building strong relationships with existing clients and identifying new opportunities for growth. Here are some key tasks to prioritize during this phase:
1. Know Your Clients
Schedule introductory calls or meetings with each client to review their current needs, pain points, and goals. Use this opportunity to discuss any outstanding issues or concerns and to gain a deeper understanding of their business and how you can help them achieve their objectives.
2. Identify Opportunities
Identify opportunities to cross-sell or upsell additional products or services to existing clients. Look for gaps in their current solutions and areas where your company can add value.
3. Understand the Strength and Possibilities
Meet with key stakeholders within your own organization to get a better understanding of the company's product roadmap and identify areas where you can contribute to new product development or improvement.
4. Build Relationships and Partners
Attend relevant industry conferences and networking events to build relationships with potential clients and partners. These events are a great way to stay up-to-date with industry trends and to meet potential collaborators.
5. Develop a Personal Development Plan
Work with your manager to develop a personal development plan that includes training, mentorship, and coaching. This will help you build your skills and knowledge and prepare you for future opportunities within the organization.
By the end of this phase, you should have a solid understanding of your client's needs and goals, and be actively pursuing new opportunities for growth.
Day 60-90: Drive Revenue and Expand Your Client Base
In the final phase of the plan, which covers days 61 to 90, the focus shifts towards driving revenue and expanding your client base. Here are some key tasks to prioritize during this phase:
1. Develop a targeted sales strategy
Develop a sales strategy that leverages the insights you have gained from your interactions with existing clients and prospects. Use this strategy to identify high-potential targets and prioritize your sales activities.
2. Create effective sales collateral
Work closely with your manager and the sales team to develop sales collateral and presentations that effectively communicate your company's value proposition and competitive advantage.
3. Implement a referral program
Develop and implement a referral program that incentivizes existing clients to refer new businesses to your company. Word-of-mouth referrals are a powerful way to drive new business and expand your client base.
4. Build relationships with key decision-makers
Focus on building relationships with key decision-makers within target accounts. Leverage your existing network and industry contacts to gain access to these individuals and position yourself as a trusted advisor.
5. Monitor and adjust sales activities
Monitor your progress closely and adjust your sales activities as needed. Use data and analytics to track your sales pipeline and identify areas where you can improve your conversion rates and overall sales performance.
By the end of this phase, you should be well on your way to achieving your revenue targets and expanding your client base.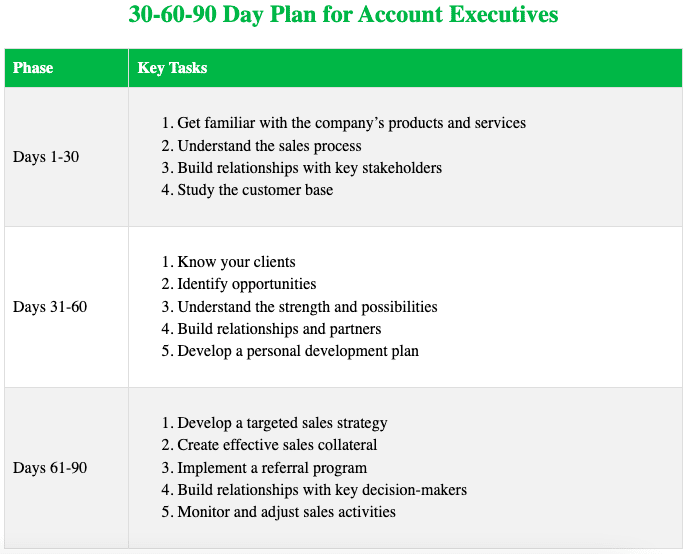 Conclusion
Developing a 30-60-90 day plan is an essential part of success for any account executive. By breaking down your goals into manageable phases, you can focus on the most important tasks and build momentum toward long-term success. Whether you're a new hire or a seasoned sales professional, a well-designed plan can help you hit the ground running and make an immediate impact on your company's bottom line. So take the time to develop a plan that aligns with your goals and commit to following through on it each and every day. With persistence, dedication, and a little bit of luck, you'll be well on your way to achieving your sales targets and driving growth for your organization.