Kansas City is the largest city in Missouri with a population of 2.34 million people. The city is also ranked in the list of the top 75 best places to live in by U.S News Real Estate. In Kansas City, you can always find something to engage you whether it is the history of the famous BBQ of the city.
Even though the real estate prices in Kansas were soaring up, the living expenses in Kansas City are still a lot cheaper than in normal states. Hence, the real estate market of Kansas is very competitive. In Kansas, there was a huge increase in sales of homes in 2020. According to the Kansas City Regional Association of Realtors, 27,424 homes were sold from 27, 712 homes in near August of 2019.
Since the housing demands are soaring very high, there has been an increase in the sales price of homes in the metropolitan area where the average price of a house goes up by $272,281. However, if you were to rent a single-bedroom flat the cost would drop down to $1,050.
Let's dig a bit deeper and find out why you should move to Kansas City, and how is life there.
1. Rich Culture and Favorable Weather
The classical tune of jazz music and many world-class barbecue restaurants makes Kansas a perfect place for people who love ancient history, arts, and amazing cuisines.
Also, the weather is pretty clear and sunny in Kansas. To make things even better, you can find lakes in your neighborhood where you can boat or do some fishing, or even spend a night in the camp with your children. Nice weather and nice neighbors, what else do you need?
2. Low Living Expenses
One of the finest perks about living in Kansas will be its living expenses. According to a report, the cost of living expenses are much cheaper than in 88% of cities in the United States of America.
To give you a certain idea about how cheap is Kansas, a single person would approximately need $2,012 including the cost of renting a single-bedroom apartment which is $1,055. This cost is 13% increased compared to the previous year.
Although the living expenses are low, the housing and real estates price are rising, which from a point of real estate investment can be a good thing. But if you are planning to settle there, you better hurry up.
Currently, there are 693 single-bedroom apartments, 560 double-bedroom apartments, and 172 studio apartments available for rent. To find more about triple bedroom and 4 bedroom apartments, check-in Zumper that provides several details that you may need if you plan to rent an apartment in Kansas.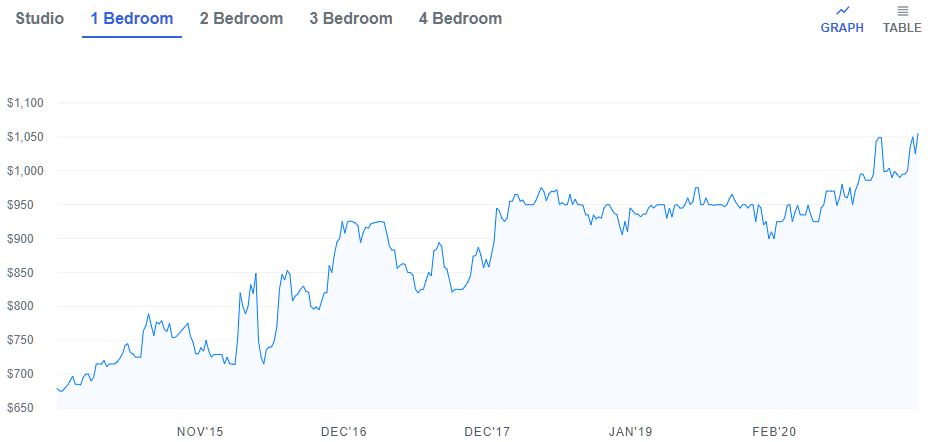 3. Friendly neighbors and beautiful neighborhoods
Some of the most popular and beautiful neighborhoods in Kansas City are The Downtown Loop, Crossroads, and Hanover Palace where the rents are $1405, $1700, $925, respectively. These are also the expensive neighborhoods in the city.
However, if you want to look for somewhere more affordable and cheap then Bonne Hills, Ashland Ridge, and Lykins can be the suitable choices for you where the rents for a single bedroom apartment ranges from $425 to $475 per month.
People in Kansas City are very welcoming and friendly. They smile, wave at you and always show gentle gestures towards other people.
You can also visit River Markets which lies south of the Missouri River where you can buy fresh farm products. The market is easily accessible from the city market and on Saturday you can enjoy Jazz Music events too.
4. Poor Drainage and Grading Alert
Don't forget to check this part if you are seriously planning to buy a home in Kansas. A senior home inspector Drew Gordon says that the new houses have "improperly installed roofs and poor grading towards the house". Drew also added that there are houses with poor drainage systems because the owner makes it a priority.
This matters because once you bought a house and you found out that your home has poor drainage and gradings, it will cost you a lump sum of money in your bills. So it is recommended to make a home analysis before you buy the house.
Also, if you are planning to buy homes near the Missouri River, check out if it is under a Flood Zone Risk. And if you have, don't forget to sign up for flood insurance. But don't worry, because of the city's efforts their insurance premiums are highly deducted.