Before jumping into Salesforce for real estate review, let's look at this data.
According to Gartner, Salesforce currently accounts for nearly 20% of CRM's market share.
Another report by Salesforce Customer Success says that companies that have adopted Salesforce are witnessing a 25% increase in their revenue.
In addition, companies that have moved to Salesforce have seen a spike of 35% in their customer satisfaction rate.
When we talk about salesforce, we see it applicable to businesses that have customers visiting the website online. However, it can be used to increase the productivity of a real estate business as well. These are the times when the real estate industry in the UAE is witnessing a slump.
The real estate industry is witnessing a disequilibrium in demand and supply in the UAE. According to a report published by Knight Frank, the residential sales prices in Abu Dhabi showed a sharp slump of 7.5% in 2019, and those in Dubai fell by 6% in the same year. The other cities of the UAE have witnessed a course of reduction.
To put it into perspective, the real estate market outlook for the short to medium term is gloomy. Sensing the not-so-impressive picture of the UAE's real estate market, the PM of the UAE has proposed regulatory changes to boost the market's contribution to the economy.
There has been a cut-down in interest rates. This cut-down has yet again evoked interest among individuals regarding the properties. To be precise, the real estate sector may be weak, as of writing. However, relaxation in the visa process, the introduction of RERA, and other incentives are likely to set the stage for the acceleration of the real estate market in the UAE.
Does that mean the Competition to Convert the Leads would turn Fierce?
For any sector, for instance, a plunge in profit share is a more significant motivation to attract it during better times. In the long run, the real estate market in the UAE shows huge potential to recover and flourish. In such a situation, brokers and agents can't let any potential customer or business go. To answer the question, the competition to convert leads will be intense in the near future.
Now comes the interesting question.
How prepared are you to take up every business that comes your way?
You may say that you contact your clients using Outlook and that you have an address book with their contact details in place. Besides this, you have a sales tracker that lets you understand your business's curve. However, you have all of these stored in an Excel sheet.
Don't you think you lack preparation? Don't you believe you will be losing out on time and potential clients? The manual process has its own set of limitations, and that is where the salesforce comes in.
What is the Role of Salesforce in Enhancing the Customer Experience in the Real Estate sector?
Most real estate clients fall through the cracks, not because of the disparity in supply and demand, but because the agents aren't able to understand their needs.
A common thread to serving the customer's rights is to understand their requirements in a precise manner. We are talking about customers who can be fussy and impulsive at times. Frequent changes in their wants may not give you the clarity required to know what you should serve them. As a result, your competitor is able to make a profit out of your pocket.
Now, let's talk about the features of salesforce. 
Salesforce brags about its following features by claiming that they are the best CRM software for real estate agents out there:
Faster Response Times
Intuitive Automation
Centralized database
Easier Correspondence
Immediate Evaluation
Given below are some of the ways salesforce is changing the face of the real estate sector for the better:
1. All the Communication in One Platform
Now, you may offer different types of communication modes for your customers to reach out to you. They may choose any mode. At the end of the day, you may receive many requests on different channels. With time, the magnitude of the communication you receive would be untraceable and in huge numbers.
In order to cut down on the complexity, salesforce is an ideal platform that consists of chat, calls, and email all in one platform. This makes it easy for you to track the communication on a single platform.
Your team would be able to respond efficiently to your customers' queries and requests. Salesforce would help you connect the property seekers to you and your team to them. Once seamless communication is established, you can make your way to lead conversion quickly.
When customers don't have to wait, they are likely to respond better to your business.
There is no doubt that Salesforce has over 150,000 paid customers.
2. Cloud-based Salesforce System to Improve Sales Performance
With the onset of digitalization, data has been increasing at an exponential pace. As a result, on-premise data may only offer you access to limited data. On the other hand, your customers may post requests and queries even while you and your team sign off from work.
In such a situation, a cloud-based salesforce can encourage better team collaboration. All the team members are on the same page regarding a property. This instigates better team collaboration and customer communication.
Your entire team can work from across the world using the cloud-based salesforce and take up queries and requests from customers. This could significantly help in boosting customer satisfaction.
Given this benefit, nearly 58% of Salesforce customers are planning to leverage additional Salesforce clouds.
3. Salesforce helps Define the Customer Persona in a Better Way
In recent times, data is no less than an asset in itself. In such a situation, the salesforce helps in generating data.
What's more?
Salesforce possesses an in-built analytics system that helps you understand your customers. The same task of mining the right data from millions of data points would have otherwise been a job bigger than an entire team to work on. This implies that you would have higher bandwidth to serve your customers the way they deserve.
As mentioned previously, Salesforce includes built-in analytical tools, which would assist and guide you in finding the right connections, hints, and causes.
When you have the data and the right analytical tools, you can simply predict market behavior, gauge customer behavior, and process accurate reports at the tap of a button. In addition to this, you can understand the current trend through the right data.
When you understand your customers well, you can provide them with exactly what they want.
Knowing the customer better means better sales opportunities. As a result, companies that have invested in salesforce have noted nearly 25% of their ROI in marketing.
4. Salesforce can Set you Apart from the Competitors.
You have to agree that turning the data into insights takes a lot of time. When the number of customers increases, you and your team may not find the time to generate analysis and insights. This could put you back in the pack of real estate dealers.
On the other hand, when you integrate an AI system into your real estate management system, you do not need any additional resources to work on it. This means you can now focus on customer communication.
A quick response plus better guidance can take the customer experience to another level. AI-integrated salesforce systems can help you build a deep relationship and also narrow your focus to only what is important.
Companies that have trusted in Salesforce's competency of monitoring performance in real-time found an increase of about 44% in their productivity levels.
Is Salesforce a Fad?
Over the last decade, the world of marketing automation has achieved new heights. Unica was the first marketing automation tool, and today, we have more than ten better-performing tools.
But why did the marketing automation tools see diversification in the first place?
Before answering this question, let's look at some interesting data.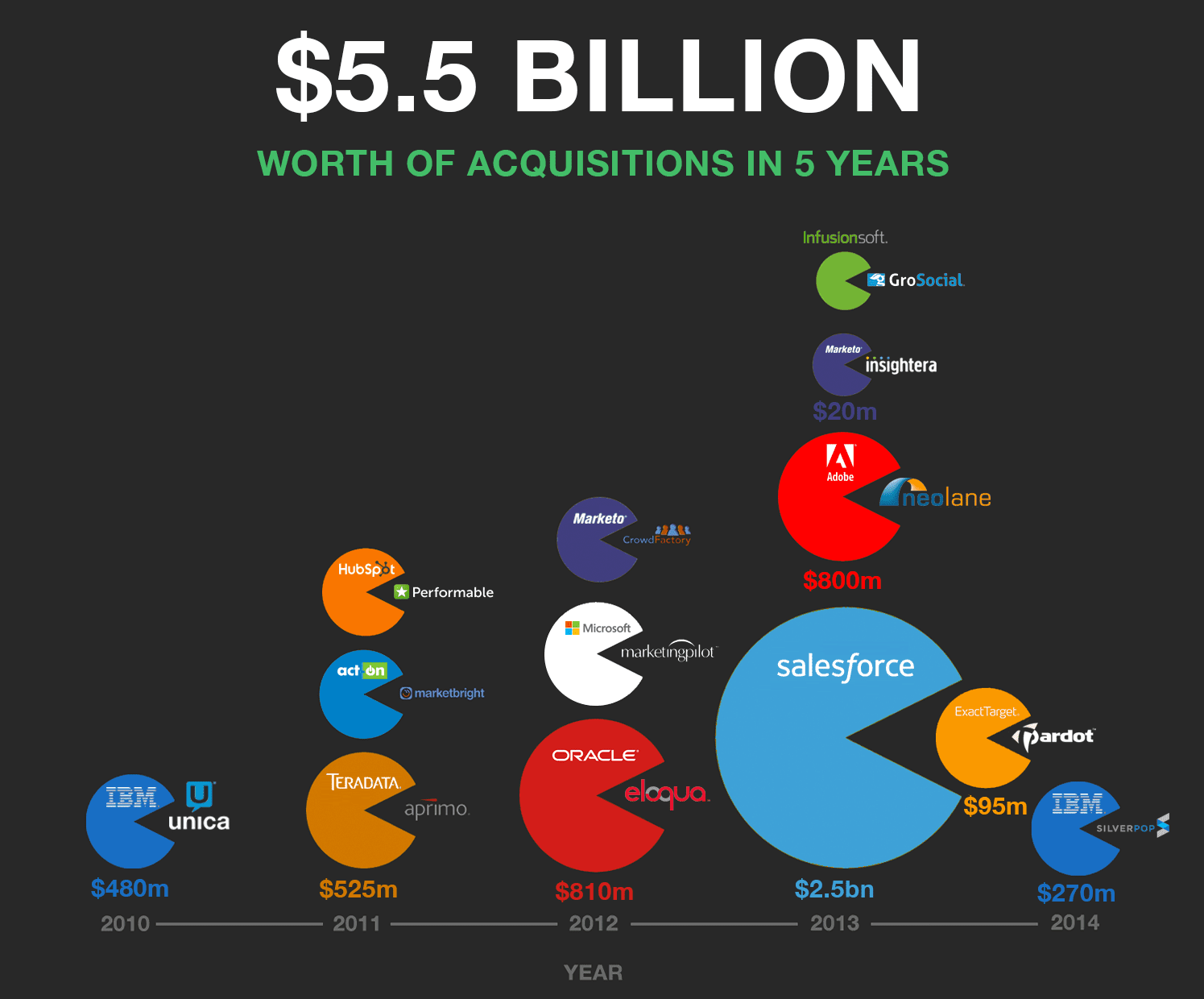 Source: marketingautomationinsider
Before the development of Salesforce, many software automation tools came and went with little notice or without one. When the salesforce came in, the other sectors, including the real estate sector, were able to spot the difference.
This is because Salesforce was able to adapt to any new technology or trend. For instance, the Internet is continuously finding new and better speeds. High-speed Internet is improving cloud-based tools.
And guess what?
Salesforce leverages the technological prowess of cloud-based servers and high-speed Internet.
In addition to this, the frontiers of marketing have been continuously evolving. A few years back, marketing relied heavily upon email marketing; today, it is social media. In the near future, and after that, marketing will be something else.
Salesforce has evolved to offer email marketing automation as well as social media marketing automation. The technology has led to an increase in qualified leads and a significant rise in sales productivity. Besides this, you can also see a sharp decline in the marketing overhead.
Don't believe us? Here's the data to show what Salesforce is capable of doing: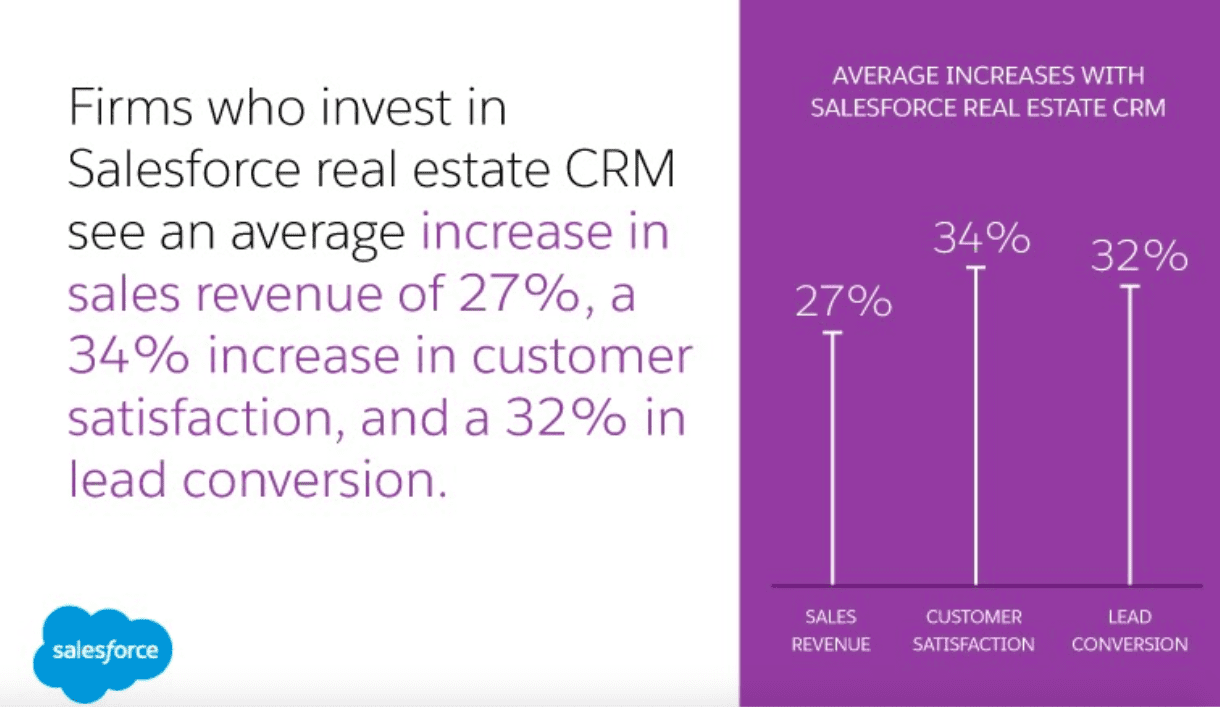 Source: Salesforce.com
Companies that have trusted in Salesforce have witnessed a sharp spike in their sales revenue, customer satisfaction, and lead conversion rate.
How are the companies looking at Salesforce?
A number of companies in the Fortune 500 rely on salesforce to boost their productivity levels. These companies include:
Spotify.
Amazon Web Services.
U.S. Bank.
Toyota.
Macy's.
T-Mobile, and more.
Clearly, the dominance of Salesforce is not limited to a sector. However, it has a unique opportunity while talking about salesforce for the real estate business. This is because the channels of data are varied and in complete disparity.
The application of Salesforce for real estate businesses possesses many strong points. Its multifaceted features help to operate various functions efficiently and effectively. The flow of information is important for the real estate business, which is inherent in the CRM features of the salesforce.
A lack of a holistic approach to customers' space, along with manual operations, may lead the leads out of the sales funnel.
Besides this, companies find it difficult to be on the same page as different data sheets speak differently. There is a lack of collaboration when it comes to managing data using Excel sheets.
Post the integration of Salesforce, companies have found the following:
A proper framework to suit the core business operations.
Integration of a unified platform that does an end-to-end job of customer data compilation to the generation of financial reports and more.
Salesforce CRM Pricing
It has 4 different packages for a different combination of features.
Sales Essentials Edition: $25/user/month*
Professional Edition: $75/user/month*
Enterprise Edition: $150/user/month*
Unlimited Edition: $300/user/month*
* All per-user products require an annual contract and are billed annually.
Final Words
With just a little touch of automation, you will be able to supercharge the influx of your brokerage. In addition to this, this automation comes with personalization, which means that your customers feel like they are talking to robots.
Salesforce will help you gain an organic eye for your customers' wants and needs. A little investment in your real estate business's future can help boost effectiveness and productivity. As a result, you would have more time to build a relationship with your customer and provide them with personal attention to increase their engagement.
In the future, you will have no choice but to incorporate Salesforce into your real estate business. However, if you do it sooner, you will be able to shift the gears of your real estate business in the right direction.