In today's rapidly changing business landscape, organizations need to adopt effective planning strategies to thrive and remain competitive. Long-range planning and strategic planning are two approaches commonly used to set goals, define objectives, and chart a course for the future. While these terms are often used interchangeably, they have distinct characteristics and serve different purposes. In this article, we will delve into the differences between long-range planning and strategic planning, explore their unique benefits, and examine how organizations can effectively leverage both to drive success.
Understanding Long-Range Planning
Long-range planning involves setting goals and establishing a framework for achieving those goals over an extended period, typically ranging from three to five years or more. It focuses on forecasting future trends, market conditions, and potential challenges to develop a roadmap for the organization. Long-range planning provides a broad view of the organization's desired outcomes and outlines the steps required to reach them.
Benefits of Long-Range Planning
1. Vision and Direction
Long-range planning allows organizations to articulate a clear vision and direction for the future. By envisioning what they want to achieve over an extended period, organizations can align their resources, strategies, and actions accordingly.
2. Goal Alignment
Long-range planning facilitates the alignment of short-term objectives with long-term goals. It enables organizations to break down ambitious goals into manageable milestones, ensuring consistent progress toward the desired outcomes.
3. Resource Allocation
Long-range planning helps organizations allocate resources effectively. By understanding future requirements, organizations can make informed decisions about investments, budgets, and resource allocation to support their long-term objectives.
4. Risk Mitigation
Long-range planning enables organizations to identify potential risks and challenges in advance. This proactive approach allows them to develop contingency plans and mitigation strategies, minimizing potential disruptions to the business.
5. Stakeholder Engagement
Long-range planning promotes collaboration and engagement among stakeholders. By involving key individuals from different departments, organizations can foster a sense of ownership and collective responsibility toward achieving long-term goals.
Understanding Strategic Planning
Strategic planning focuses on the formulation and execution of strategies that position an organization to achieve its long-term objectives. It involves analyzing the internal and external factors that impact the organization's success and designing strategies to exploit opportunities and overcome challenges. Strategic planning provides a roadmap for achieving the long-term goals outlined in the long-range plan.
Benefits of Strategic Planning
1. Competitive Advantage
Strategic planning helps organizations gain a competitive edge in the market. By conducting thorough analyses of the industry, competitors, and customer needs, organizations can identify unique value propositions and develop strategies to differentiate themselves from the competition.
2. Adaptability and Agility
Strategic planning equips organizations with the ability to adapt to changing market dynamics. It enables them to anticipate trends, identify emerging opportunities, and adjust their strategies accordingly, ensuring they stay ahead of the curve.
3. Resource Optimization
Strategic planning allows organizations to optimize resource allocation. By identifying areas of strength and weakness, organizations can allocate their resources strategically, focusing on activities that yield the highest return on investment.
4. Alignment and Focus
Strategic planning ensures alignment across the organization. It provides a framework for setting priorities, making decisions, and allocating resources, fostering a sense of direction and focus among employees at all levels.
5. Continuous Improvement
Strategic planning promotes a culture of continuous improvement. By regularly reviewing and evaluating strategies, organizations can identify areas for refinement and enhancement, enabling them to stay relevant and responsive to market changes.
Key differences between Long-Range Planning and Strategic Planning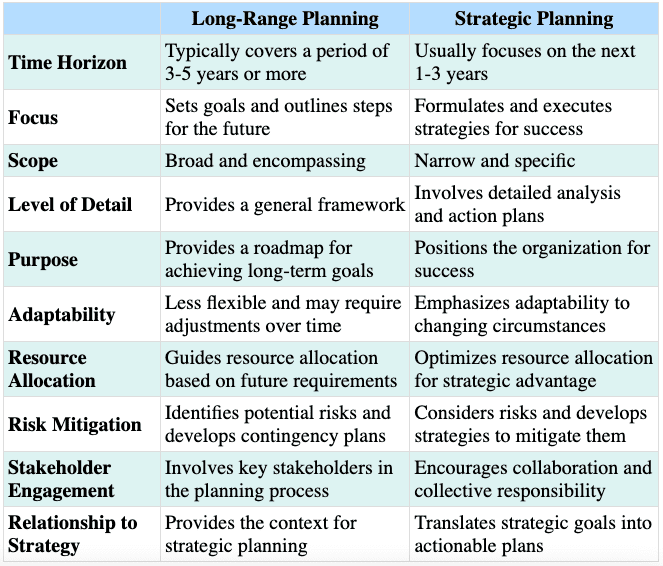 It's important to note that while these differences exist, long-range planning and strategic planning are complementary and should be integrated to achieve organizational success.
Balancing Long-Range Planning and Strategic Planning
While long-range planning and strategic planning serve different purposes, they are not mutually exclusive. In fact, successful organizations recognize the importance of integrating both approaches to achieve sustainable success. Here are some key considerations for balancing long-range planning and strategic planning:
1. Alignment
Ensure that the goals outlined in the long-range plan are closely aligned with the strategies developed through strategic planning. This alignment will ensure that the organization's long-term objectives are supported by actionable and effective strategies.
2. Flexibility
Recognize that both long-range planning and strategic planning need to be flexible to adapt to unforeseen circumstances. Regularly reassess and adjust plans as needed to respond to changes in the market, technological advancements, and shifts in customer preferences.
3. Communication
Foster open and transparent communication between all stakeholders involved in the planning process. Ensure that there is a shared understanding of the long-term goals and strategies, and encourage feedback and collaboration to refine and enhance the plans.
4. Execution
Effective execution is key to realizing the benefits of both long-range planning and strategic planning. Establish clear responsibilities, milestones, and metrics to track progress and ensure that the plans are implemented successfully.
Conclusion
Long-range planning and strategic planning are essential tools for organizations to navigate the complexities of the business landscape and achieve their long-term goals. While long-range planning provides a roadmap for the future, strategic planning ensures that the organization remains adaptable, competitive, and responsive to market dynamics. By striking a balance between these two approaches, organizations can set themselves up for sustainable success, driving growth and innovation in an ever-changing world.