In today's fast-paced e-commerce landscape, efficient order fulfillment is crucial for businesses to thrive. As of 2020, approximately 89.8 percent of all retail orders included some level of in-store participation in their fulfillment process. Order fulfillment encompasses the entire process of receiving, processing, and delivering customer orders. It involves a series of steps that ensure products are delivered accurately and on time. In this article, we will explore the key steps involved in order fulfillment and discuss effective strategies to streamline the process for business success.
What is Order Fulfillment?
Order fulfillment refers to the comprehensive process of receiving, processing, and delivering customer orders promptly and accurately. It involves a series of interconnected steps, starting from the receipt of products from suppliers to the final delivery of those products to customers. Order fulfillment encompasses tasks such as inventory verification, sorting, shelving, order processing, picking, packing, labeling, shipping, and ensuring successful delivery. Efficient order fulfillment is crucial for businesses operating in the e-commerce space, as it directly impacts customer satisfaction, brand reputation, and overall business success.
Here is an order fulfillment process flowchart with basic steps involved: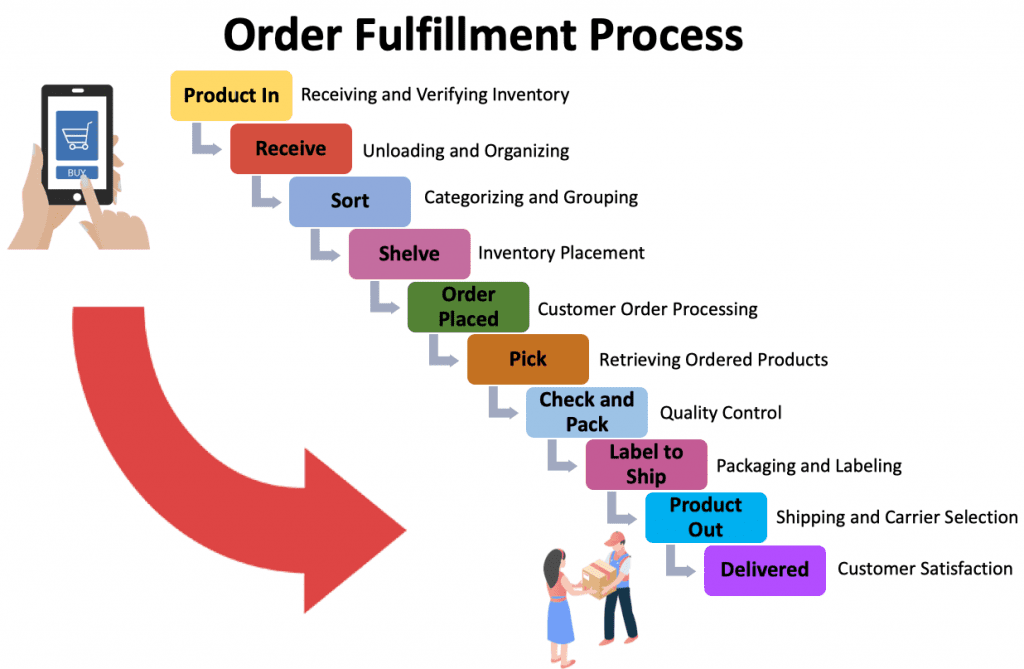 Key processes involved in Order Fulfillment
1. Product In: Receiving and Verifying Inventory
The first step in the order fulfillment process is receiving the products from suppliers. Upon arrival, the inventory needs to be thoroughly checked for accuracy and quality. This involves verifying the quantity, inspecting for any damages, and cross-referencing the received items with purchase orders or packing slips. Implementing barcode scanning or RFID technology can significantly enhance accuracy and efficiency at this stage.
2. Receive: Unloading and Organizing
Once the inventory is verified, it needs to be unloaded and organized in a designated area within the warehouse or distribution center. Efficient space management is crucial to ensure easy access and minimize picking and packing errors. Proper labeling and categorization of products can help streamline the subsequent steps in the order fulfillment process.
3. Sort: Categorizing and Grouping
After receiving and organizing the inventory, the next step is to sort the products based on various criteria such as size, SKU, or category. Sorting enables efficient storage and retrieval during the picking process, reducing the time required to locate specific items. By grouping similar products together, businesses can optimize the order fulfillment process and minimize errors.
4. Shelve: Inventory Placement
Once the products are sorted, they need to be placed on the shelves or racks in the warehouse. Efficient shelving techniques, such as using bin locations or implementing a warehouse management system (WMS), can help optimize storage space and facilitate easy access during the picking process. Proper labeling and clear signage also contribute to a more organized and streamlined workflow.
5. Order Placed: Customer Order Processing
When a customer places an order, the order fulfillment process is triggered. It is essential to have an efficient system in place to capture and process customer orders accurately and promptly. This includes order confirmation, payment processing, and order tracking. Integration between the order management system (OMS) and inventory management system (IMS) can help automate this step, minimizing errors and reducing processing time.
6. Pick: Retrieving Ordered Products
The picking process involves retrieving the specific products ordered by the customer from the shelves or storage area. There are various picking methods, including batch picking, zone picking, and wave picking. Choosing the most suitable picking method depends on factors such as order volume, product characteristics, and warehouse layout. Efficient picking techniques, such as using handheld scanners or pick-to-light systems, can enhance accuracy and speed.
7. Check and Pack: Quality Control
After picking the products, they go through a quality control check to ensure accuracy and condition. This involves verifying that the correct items and quantities are packed for each order and checking for any defects or damages. Quality control measures are essential to maintain customer satisfaction and prevent returns or exchanges. Automation technologies, such as automated weighing and dimensioning systems, can help streamline this process.
8. Label to Ship: Packaging and Labeling
Once the order has been checked and packed, it is prepared for shipment. Proper packaging is crucial to protect the products during transit. Additionally, each package needs to be labeled accurately with the customer's address, shipping labels, and any necessary barcodes or tracking numbers. Automated labeling systems can improve efficiency and reduce labeling errors. Integration with shipping carriers' systems can also enable real-time tracking and delivery updates.
9. Product Out: Shipping and Carrier Selection
At this stage, the packaged orders are handed over to the selected shipping carrier for delivery. Choosing the right shipping carrier is crucial to ensure timely and cost-effective delivery. Factors to consider include the destination, package weight and dimensions, delivery speed, and cost. Many businesses leverage multiple shipping carriers or utilize third-party logistics (3PL) providers to optimize shipping processes and provide more flexible delivery options to customers.
10. Delivered: Customer Satisfaction
The final step in the order fulfillment process is the successful delivery of the products to the customer's doorstep. Timely and accurate delivery is essential for customer satisfaction and building a positive brand reputation. Providing customers with tracking information and proactive updates on their order status can enhance transparency and increase trust. Monitoring customer feedback and addressing any issues promptly contributes to long-term customer loyalty.
Conclusion
Efficient order fulfillment is a critical aspect of e-commerce and plays a vital role in customer satisfaction and business success. By understanding the key steps involved in the order fulfillment process and implementing effective strategies, businesses can optimize their operations, reduce errors, and meet customer expectations. From receiving and sorting inventory to accurate picking and timely delivery, each stage requires careful planning, utilization of technology, and continuous process improvement to ensure a seamless customer experience. By prioritizing order fulfillment excellence, businesses can gain a competitive edge and drive growth in the dynamic world of e-commerce.